Dance classes are one of the best ways to nurture yourself creatively. Here you will find the most popular types of dance for adults in the USA.
Dance is also being recognized as an activity to aid in stress relief by providing an emotional outlet, and it also helps to stay on the fitness track.
So, if you are adult looking forward to learn dance for the aforesaid reasons, or any other reason of your own.
The following are the five most popular dance styles you can choose from initially to begin with.
1. Ballet
Ballet is one of the most revered dance forms, recognised across the world for its beauty, elegance and discipline.
The classic of all the dances, this timeless dance form is highly technical and thus can serve as a strong base to excel in other genres of dance.
Ballet dance is also a great choice for people who are looking to keep fit, as the dance training leads to strengthening and toning the core, stomach, upper back, arms, buttocks and legs while increasing flexibility.
Owing to its high-level technicality, the authentic ballet style can be difficult to master, but there are certain styles of ballet such as 'ballet fusion' which combines the traditional elements of ballet with some modern elements other genres and are easy to learn and practice.
Suggested attire: Reasonably fitted clothing that you can move comfortably in. Ballet shoes are required.
2. Contemporary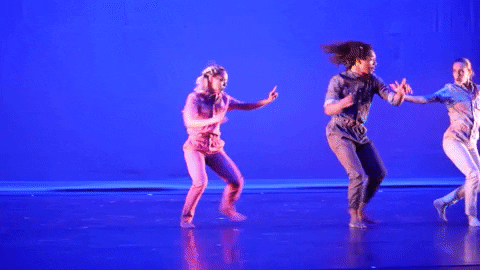 Contemporary dance is an innovative dance style inspired from a number of dance genres including Ballet, Jazz, Lyrical and Post-Modern, thus serve as an interesting dance genre for beginners.
This dance style features an array of creative movements performed to a wide range of music, combining energy, style and technical skills.
So if you want to train into a multi-styled, modern and dynamic dance form, Contempoary dane could be your choice.
Suggested attire: Reasonably fitted clothing that you can move comfortably in. This is a bare foot class, but some students prefer to wear thin cotton socks, foot thongs or Ballet shoes.
---
Read More : Zumba – Everything you need to know!
---
3. Hip- Hop
Evolved from the American street dance and music(rapping and DJing), Hip Hop dance is now one of the popular dance genres among the present generation.
This is a high paced and energetic dance form comprising of swift and agile movements.
There are many different styles within the hip-hop genre, so those of you who are interested in this style of dance can chose the one which is right for you.
Suggested attire: Think loose street-style clothing – trackpants, tee and runners but nothing with too much grip!
4. Jazz
Jazz is a dynamic dance genre, ccharacterized by technical and energetic choreography executed to strong beats.
Made popular by TV shows like So You Think You Can Dance and World of Dance, Jazz can be performed to variety of popular music from yesterday to today.
Jazz style of dancing blend together a number of elements, including technique, creativity, movements and more, hence, learning Jazz can be an upbeat and fun experience.
Students learning Jazz get trained in various techniques such as turns, kicks and jumps.
Thus, Jazz can serve as suitable choice for someone who wishes to hone and challenge their technical skills and energy levels. This makes it a great type of dance for people who are looking for an energizing challenge.
Suggested attire: Reasonably fitted clothing that you can move comfortably in. Black Jazz shoes are required.
5. Tap Dance
Tap dance is perfect for those who have a sense of rhythm, control, and co-ordination.
The rhythmic sound created by the tap shoes is the very essence of this dance style, and it requires regular practice to conquer the required skill.
Tap shoes have metal plates under the balls and heels of the dancer's feet, which produce sound of beats when combined with rapid foot movements.
These classes are best for people who are willing to dedicate time to learn how to express yourself solely through the movement of their feet.
Suggested Attire: Reasonably fitted clothing that you can move comfortably in. Black Tap shoes are required.
---
Top 5 American Origin dance forms. KNOW MORE
---